Sensei Stacey Knight de Mejia – Owner
Stacey Knight de Mejia is part owner with her husband, Shihan Pablo F. Mejia, of Acadiana Karate Institute here in Lafayette, Louisiana. She began her martial arts training under Shihan Pablo in 1980. She holds a 3rd Dan in American Shotokan. Stacey holds 5 National Forms and Weapons Titles by the National Sports Karate Association, United States World Amateur Karate Organization and the National Black Belt League.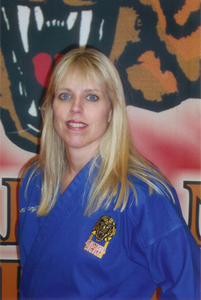 She was named "Female Black Belt Competitor of the Year" in 1994 by the National Black Belt League. She earned the silver medal for the United States at the W.A.K.O. World Championships in 1993. She is also the Otomix Grand Slam Forms Champion and has appeared on Showtime and the Southern Sports Network. She also served as a member of "Team OTOMIX", performing in martial arts demonstrations across the United States.
Stacey, along with her husband, Pablo, were instrumental in bringing the latest fitness craze to Lafayette, "Kardio Kickbox." To date, Acadiana Karate has trained thousands of women and men in this new and exciting fitness program, which combines karate, kickboxing and aerobics. Stacey was featured in the November 1998 issue of "OXYGEN" Magazine as a Kardio Kickbox expert.
In addition to her martial arts career, Stacey graduated from the LSU Law Center in 1988. After practicing law for 8 years, she retired in 1996 to operate her martial arts school with her husband full-time and to raise their son, Skye.
Stacey's future goals include unifying sport karate competition so that it may be recognized as an Olympic event for her students.
She serves on Speaker panel for the Lafayette Parish School Board "Just Say No" program. Sensei Stacey is also a volunteer lawyer for the Lafayette Parish Bar Association's Protective Order panel for domestic violence victums.
In 2010, Sensei received her certification for nationally recognized "Verbal Judo" Self Defense for Youth Program.
Stacey also appeared in the television series "Mortal Kombat" where she performed a fight scene for the character "Meleena." Below is a picture of her on the Mortal Kombat set.