Shihan Pablo F Mejia – Owner
Originally from Honduras, Central America, Shihan Pablo F Mejia is the owner and president of Acadiana Karate Institute in Lafayette. He has over 42 years of experience in American Shotokan, Shotokan, Jiu Jitsu, Judo, Sensenta, Taekwondo, Keichu Ryu, MMA and Kempo. He began his training with Sensei Warren Menard and Master Mikami. He currently holds a 5th Dan in American Shotokan and Keichu Ryu.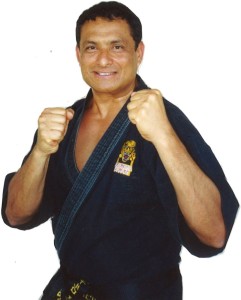 More recently, in his quest for knowledge and excellence, Shihan Pablo has studied and trained with Master Ron Von Browning in the Browning Accelerated Fighting Systems, Marcus Silveria in Jui Jitsu and Master Ron Fergueson of the American Freestyle Grappling Association in submission grappling.
He has conducted business seminars for numerous martial arts school owners throughout the southern United States. He has been named Instructor of the Year and has won School of the Year for the last six years by the Southern League of Associated Martial Artists.
His goal is to own and operate several Acadiana Karate franchises with the main emphasis to educate the public about professional martial arts education. He is the proud father of two sons, Pablo Mejia, III and Skye Mejia.